Welcome to the BRYC NEWS 2018
Best wishes to Val from us all at Broads Radio Yacht Club
Winter break is upon us ...Restaraunt/resteraunt........cafe closed. Resume on 11-2-2018 with the BIG boys ....Six metres start Sunday 11-2-2018
14/1/2018 Last IOM race before winter break. Wind was South East ish,cold, gentle, holey( you know what I mean) and flukey. Terry was RO, setting a good a course in difficult conditions, and conducted the day in a friendly, proffessional manner.
Pete did it again claiming 5 of the 7 races, only seven due to time constraints. Vinnie and Eric sharing the other 2. Click here for days results.
Geoff Josey suggeats alternative racing when weathers bad but then adds controversial ageist comment!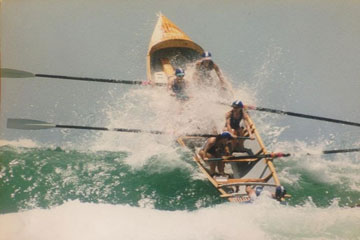 "Gig racing has become very active on the Blackwater with teams from a number of sailing clubs. Alas, I think most of our members are a bit mature to take part."
I think Geoff should be removed from all executive posts in the club and banned from talking to anyone over 60. Who does that leave??........... .......NEIL ! (so Neil says)
Next Sunday...2nd IOM race of the season.......Will Pete Sutton prevail again? OR will some of the other big hitters sort their act out and give him some competition................Who knows.
Hot of the press from Alan Bright!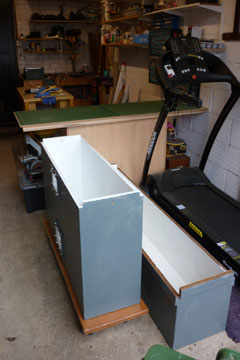 I am pleased to say that I have finally finished the two new tanks for measuring the six metre and
IOM classes.Click here for more details.
7/1/2018 . A cold,sunny, dry day with a brisk,blustery North-Easterly wind greeted the nine intrepid sailors who started the first race of the First IOM Series. Admirably RO'd by Elizabeth and her beautiful assistant Bernie.
Pete Sutton quickly showed his class by winning the first 3 races from which point he coasted to a Day(1) win. Well done Pete! Click for results.
Start of a new year! Happy new year to one and all! Lets have a great years sailing.